A Writing Journey Series (Part 3)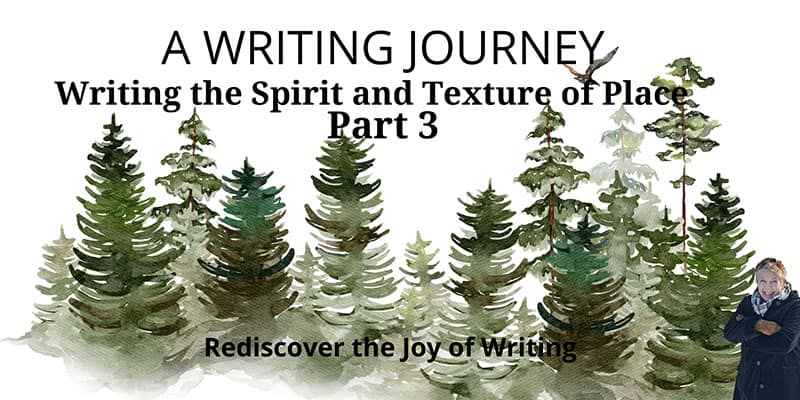 Part 3: Writing the Spirit and Texture of Place
DISCOVER THE KEY TO WRITING GREAT STORIES
GAIN CONFIDENCE AS YOU OPEN YOUR EMOTIONAL CENTER
AND LET THE WORDS FLOW
Pre-registration: Pre-gistration is now open with a $50 ($317) discount until January 16th, 2023!
Registration Opens: (At full price $367) January 17th
Registration closes: January 24th at the end of the day!
Class begins: January 23rd, 2023
Pricing: $367
Some of the greatest writers have certainly gotten "place" right. And some, not so much.
In this 6-week class, we will take a deep dive into the writing style of several well-known writers. One in particular, a Pulitzer Prize winner who says "place always comes first" and see if what she tells the world is actually what she does.
We will also explore other writers such as John Steinbeck and Barry Lopez. Both of these writers are excellent. They bring "place" so alive it becomes a character.
After exploring these writers and their styles, we will then explore how we "see" and "create" place in our work. How does it differ from these writers? Our characters should rise from the fabric of the earth. Many writers just ignore place, but is that the best idea? Place comes first, then the characters.
Come join us in this inspiring class! If you are looking for different ways to bring your story alive, this is it. Register now – Class begins January 23rd. This class meets every Thursday at 10:00 a.m. Mountain Time on Zoom for six weeks, but the class material comes live each Monday morning on our Learning Platform and is available to you to go over any time and any number of times. Please join us, you will love it!