A Writing Journey Series (Part 1)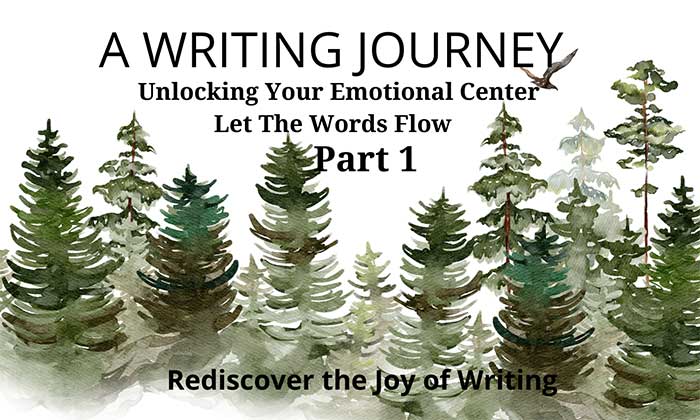 Part 1: Unlocking Your Emotional Center - Letting the Words Flow
DISCOVER THE KEY TO WRITING GREAT STORIES
GAIN CONFIDENCE AS YOU OPEN YOUR EMOTIONAL CENTER
AND LET THE WORDS FLOW
Pre-registration: TBD
Registration closes: TBD
Class begins: TBD
Pricing: $367

Join a growing community of writers who are discovering the hidden secrets of creating great writing. In the process, not only will you learn more about yourself and your emotions, your stories will come alive, and you will write fewer drafts and bring joy back to your writing.
Many looking in from the outside, think writing sounds so simple. I might add, "Maybe to some, but not to all of us." In the beginning, it is exciting and fulfilling. It allows you to express yourself in a way you have never done before. You announce to the world you are writing a book, then a year passes, then another. One revision after another, but it still isn't there. You know what you want to write, but why isn't it coming? Do you wonder if you are the only one struggling? Or, worse yet, you begin questioning if you actually have it in you to be a writer.
You are trying to be honest with yourself though, your eyes are open wide now, and you know that whatever is missing seems beyond your reach. Self-doubt floods in.
We've all been there, but it doesn't have to be this way. After years of editing, I can't tell you how many manuscripts have been sent to me, asking for a final edit when they are nowhere near ready to go. They have missed the one thing that so many of us have missed, the emotional aspect of writing. Knowing the frustrations that writing can bring, I decided I want to remove some of the struggles and bring JOY back to writing by offering this series of classes.
We begin with this first of three – an 8-week class created for those who are searching for the key to beautiful writing. This series of three classes is called: A Writing Journey, and the first class: Unlocking Your Emotional Center – Letting the Words Flow opens for pre-registration on April 11, 2022.
In this class, you will discover some simple processes to open yourself up to your creative wealth, that of emotions. You have to explore your emotions to create "feeling" in your work. We will discuss the latest science behind the process, and from that point forward, I promise you, your writing will change. There will be a huge difference in your work, and you will have fewer revisions. Instead of circling around time and time again, you will have the tools to drop into this area that will let your words flow.
8 – Week Course, Hybrid Style: Online Classes , writing
Several LIVE Lectures (All recorded for your convenience)
8 – Weekly LIVE interactive group coaching sessions and Q&A (Recorded for your convenience)
8 Short training videos (one for each session.)
Practices and Reflection Questions for each course session
Access to our private and interactive course website
Special Bonuses to add to your course experience

I had been working on my writing for years. After earning my BA at Vermont College, I continued writing and working on the craft of writing. Then finally I applied to an MFA program and was accepted at Antioch University Los Angeles.
When I arrived on campus, I was such a novice. I had a completed manuscript in my hands as fragile as it was. I was so proud of myself for finishing it. I can't even tell you how long I had worked on this, or how many revisions I had done. My professor read it and sent me home to rewrite it, saying it was more like a movie script, and he wanted me to write it as a novel. Whew!
That was the best thing that ever happened to me, thank you Leonard Chang, but I didn't know it on that day. My heart fell to my feet. I was devastated, but I didn't quit. Instead, I set out to figure it all out.
I decided to go for a dual concentration, both in Fiction and Creative Nonfiction, and then when I graduated, I stayed another term to get certified as a Creative Writing Instructor. That is what brings me to you today. I have been writing since I was about 14 years old, starting with a teen column in a Nevada newspaper, the Tonopah Times Bonanza, and went on from there, but I had never been taught what I am about to teach you.
My book, Song of the Earth, was/is about the US/Mexican border crisis. I had been living this at the time but had since moved to Missouri to care for my elderly parents and to finish my book there. When I got back to my parents' home from LA and was trying to figure out how I was going to put this book together, I wrote something about the Border. Just two or three pages, and sent it off to a friend of mine, a Mexican diplomat, in Agua Prieta, Sonora, Mexico. I asked him for his opinion, and I certainly got it. He was livid! "Susan, my dear, this isn't Mexico and the Border, you've missed the essence of it all." And that was when I realized what this was all about. I was standing back, writing about it from a distance.
On that day, I fell off that perch I had considered a safe place to write from, where I could see and document things, but not get involved. I knew if I got too close to it, my emotions would get the best of me. So, I moved up closer, figuratively speaking, and wrote the story from the inside, from my heart. My life and my writing changed forever.
The writer's struggle that hits so many of us, doesn't have to be such a struggle. In this class, we will explore the Emotional Center where most of the great writing is 'unearthed'.
Students will be guided to a deeper level of writing, one that will cut out several rewrites with techniques that will help them get to the meat of the material early on, instead of writing around and around the core of your work.
Remember, readers are smart. They need to be engaged on an emotional level.
The students will find this course filled with new and creative ways to open themselves to a deeper level. Remember: If you write or speak from your head, no one will hear you, but if you write or speak from your heart, the whole world will listen. Also remember, if you unlock the door to your emotions, you will then be writing from your heart.
"Susan Nunn, my editor, challenged me to dig deeper. All because she believed in me and my story and wanted me to be proud of every word. In the process, I began to believe in myself. She helped me tell this story with my heart leading the way. "
"Susan does an amazing job of integrating readings, writing, guided imagery, meditations, interviews and group discussion into a deeply creative experience. This class will help you take your writing process to a new level."
"Susan Nunn is the kindest, hardest working editor who does so much more. Over Zoom calls, we worked my book page by page for as long as it took until I felt it was ready for publication. Since my book is about fire investigation true crime, Susan asked many questions about specific terms trying to make sure the general reader would understand my passages. She definitely goes above and beyond and is so knowledgeable. In short, Susan is a professional who is a total pleasure to work with. "
Here's what you will experience in this course
THIS IS AN 8 WEEK CLASS, SO WE CAN DO SOME WRITING!
Over and over again, Susan has demonstrated wisdom, patience, and creativity in her guidance of me during my entire writing practice. She always waited patiently and guided me at just the right moment, always understanding and respecting my writing style, my needs, and my goals. I'm very grateful I found her.
I was new to the world of book publishing. Susan guided me ably all the way. She represents the best of what America has to offer – honest, straightforward, hard-working, and an expert of her trade.
In addition to being a lifelong friend, Susan is the one who gave me the final push I needed to make my dream of publishing my poetry collection a reality. She is a master of editing and publishing services and is incredibly dedicated to her craft – spending hours bringing your manuscript to life and ready to share with the world. She is easy to work with, provides honest feedback, and truly cares about the success of each of her clients. Love you, Susan!
It's more than a course, it's a community
To see each of you write from deep in your emotional center, have it be the best you can do, and to be published. I hope that each of you have the same goals. And I am here to guide you each step of the way.
You will be welcomed into a like-minded, intimate group, all working towards one goal, that of making our writing the best it can be. This group, a mixture of three classes, all a part of A Writing Journey, Parts 1, 2, and 3 will stay active and attendees of each class (Parts 1, 2, and 3) will be able to join in as we go through the year, and move forward into the next year.
It will be set up as a Private Facebook Group, so you know your writing and your information will be safe. When I notice there are questions that need to be answered for all, not just the one asking, I will do Facebook Live to answer these questions.
All gatherings will be recorded so no one will miss anything.
When you register for A WRITING JOURNEY: Part 1: UNLOCKING YOUR EMOTIONAL CENTER – LET THE WORDS FLOW you will become a part of our group. I welcome you all with open arms and can't wait for the diverse forms of creativity to flow. I will be with you every step of the way.
8 – Week Course, Hybrid Style: Online Classes to Work Through at your Leisure)
Several LIVE Lectures (All recorded for your convenience)
8 – Weekly LIVE interactive group coaching sessions and Q&A (Recorded for your convenience)
8 Short training videos (one for each session.)
Practices and Reflection Questions for each course session
Access to our private and interactive course website
Special Bonuses to add to your course experience  
BONUS #2: Upon finishing the class, you will receive three months FREE of our: 
A WRITING JOURNEY – ONLINE WRITER'S WORKSHOP
This class meets weekly and is designed to help each of you finish your writing. If you want to continue beyond these free three (3) months, there will be a nominal monthly fee. 
$200 Value – FREE
NOTE:  This class opens July 13th (at the end of A Writing Journey – Part 1 Class)